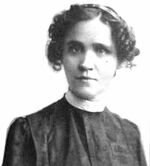 Voltairine de Cleyre was an American anarchist writer and feminist. She was a prolific writer and speaker, opposing the state, marriage, and the domination of religion in sexuality and women's lives. She began her activist career in the freethought movement. De Cleyre was initially drawn to individualist anarchism but evolved through mutualism to an "anarchism without adjectives." She believed that any system was acceptable as long as it did not involve force. However, according to anarchist author Iain McKay, she embraced the ideals of stateless communism. She was a colleague of Emma Goldman, with whom she maintained a relationship of respectful disagreement on many issues. Many of her essays were in the Collected Works of Voltairine de Cleyre, published posthumously by Mother Earth in 1914.
Ad blocker interference detected!
Wikia is a free-to-use site that makes money from advertising. We have a modified experience for viewers using ad blockers

Wikia is not accessible if you've made further modifications. Remove the custom ad blocker rule(s) and the page will load as expected.